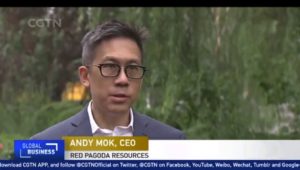 Andy Mok is a senior fellow at the Center for China and Globalization, the managing director of Red Pagoda Resources, a Beijing-based executive search firm.
He travels from Beijing.
Andy earned his stripes in Greater China as an investor, entrepreneur and policy analyst.
He was one of the first investment professionals to join Morningside Ventures in the early 1990s, where he helped formulate the group's investment strategy and played a key role in the post-investment management of portfolio companies in health care, media and education.
Subsequently, he joined the RAND Corp where, under the leadership of Zalmay Khalilzad (former US Ambassador to Afghanistan, Iraq and the UN), he helped research and publish the influential and widely cited "The United States and a Rising China: Strategic and Military Implications."
Andy currently runs Red Pagoda Resources, a Beijing-based professional services firm that helps startups in China secure money, find key talent and earn media attention to accelerate their growth and success.
In addition, he has advised family offices and other institutional investors on business and real estate investment opportunities in China, including representing the family office of a well-known Seattle entrepreneur in discussions with their peers in Asia.
Andy holds an MBA from the Wharton School in Philadelphia and an MA in China Studies from the Johns Hopkins School for Advanced International Studies, where he was awarded the Loe Fellowship for Excellence in China Studies. He is also a CPA and has a Bachelor's degree in Accounting from the University of Maryland.
He provide rigorous research-driven and data-rich presentations that provide audiences with ammunition to blast through existing biases and conventional wisdom about China to reveal game-changing insights that enable market-beating investment and business strategy decisions.
Andy's research is currently focused on One Belt One Road-related investment opportunities. In addition, his views on developments in artificial intelligence, drones, China's mass innovation/entrepreneurship policies, robotics and other subjects related to innovation and entrepreneurship in China are regularly sought by AP, Bloomberg, CCTV, Reuters and other leading media platforms.
Are you interested in having Andy Mok as a speaker or you want more information? Get in touch with us.
Andy Mok discusses the One-Belt, One Road (OBOR) initiative of president Xi Jinping

Andy Mok discusses for Iranian TV the opportunities for China, Iran trade

Andy Mok, interviewed by Reuters, on technological change in China

Discussion on Virtual Reality at CCTV

Discussion: Future of fitness tech and wearables

Please follow and like us: