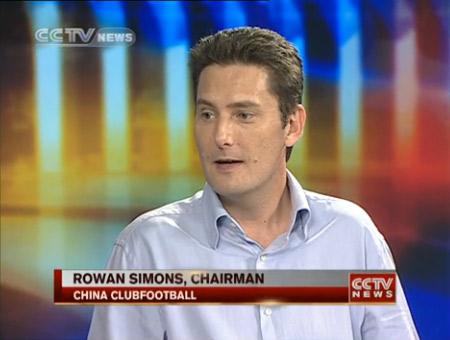 Chinese love soccer and the ongoing World Cup is just showing that, even though China is not even playing. Unfortunately, soccer expert Rowan Simons tells CNN, the country lacks to fundamentals to become a soccer nation in the future.
CNN:
"Success in football is directly related to the population of football players," says Rowan Simons, chairman of China Club Football, one of Beijing's biggest sports networks. The club allows thousands of amateurs — both Chinese and expatriates — to play the game every week.

Simons has been in China, and playing football there, for 20 years. He is arguably one of the most invested people in the grassroots development of the sport there.

He says that, statistically, one great footballer will emerge out of every 200,000 players. Right now, China has anywhere between 7,000 and 50,000 kids involved in football, according to the Chinese Football Association. This compares to nearly four million in the UK.

According to these calculations, "China is likely to have one quarter of a world-class player," says Simons.

Despite the enormous pool from which to select players, growing the footballing population is an huge task. The nation may be crazy about watching the game, but when it comes to playing it, there are hesitations.
Rowan Simons is a speaker at the China Speakers Bureau. Do you need him at your meeting or conference? Do get in touch or fill in our speakers´ request form.
Are you a media representative and interested in talking to one of our speakers? Do drop us a line.
Related articles
Please follow and like us: