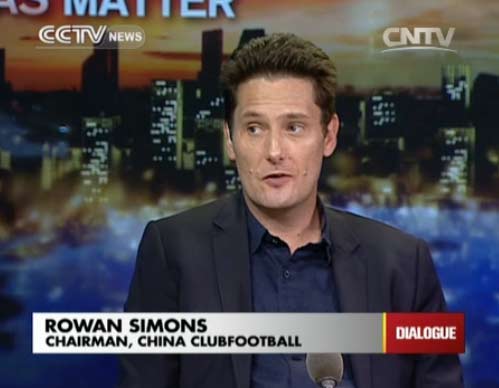 For long football lover Rowans Simons, author of Bamboo Goalposts: One Man's Quest to Teach the People's Republic of China to Love Football dismissed the many plans to reform football in China. But even he got convinced by the latest roadmap to reform, he tells Channel News Asia.
Channel News Asia:
The roadmap was passed by the central reform group headed by President Xi Jinping, who is a football fan.

"That makes sense, literally the first time that a long term plan that sees football becoming part of society and something enjoyed by millions of kids before we even dream about winning a World Cup," said Rowan Simons, Chairman of China ClubFootball. "And certainly, if the plan is followed, and that's still a big question, it's a new dawn for Chinese football."

In 2011, President Xi expressed his hope that China would one day host the World Cup and win the title. However, it China's national team currently ranks 82nd in the world and has only ever qualified for the World Cup once – in 2002.

"To win the World Cup is a very, if not the hardest sporting achievement, and there are very, very few countries that have ever won the World Cup, including some amazing football nations," said Simons. "And winning the World Cup, it is a distant dream, and that's where it should remain."

Still, football continues to gain in popularity in China. In eastern Beijing, some parents pay almost US$20 (S$27) an hour for their children to learn the sport.
Rowan Simons is a speaker at the China Speakers Bureau. Do you need him at your meeting or conference? Do get in touch or fill in our speakers´request form.
Are you interested in more experts on cultural change at the China Speakers Bureau? Do check out this list.

Related articles
Please follow and like us: