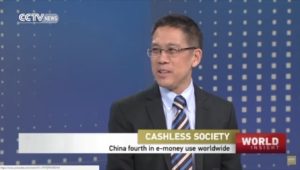 Cross-border e-commerce offers huge opportunities, not only for China but for SME's globally. Realizing those opportunities will not happen by itself, but needs huge efforts, says business consultant Andy Mok in a commentary for state-broadcaster CGTN.
Andy Mok:
But China offers more than just a proven model. It also provides an enormous market for e-commerce businesses around the world. According to the General Administration of China Customs (GACC) cross-border e-commerce turnover increased 80.6 percent from a year earlier to 90.24 billion yuan last year with imports skyrocketing 116.4 percent to 56.59 billion yuan. With rising incomes, urbanization and increasing outbound travel, demand for a greater variety of products and services from around the world will only continue to increase in China.

However, realizing these opportunities will take much effort. For example, cross-border e-commerce transactions are typically smaller than traditional import-export deals. According to the GACC, Chinese customs handled 660 million manifests for e-commerce trade in the past year, 8.4 times as much as for conventional imports and exports. On Nov. 11, China's Singles' Day online shopping festival, Chinese customs processed a total of 16.2 million orders, about 187 orders per second. Thus, customs agencies around the world must be ready for a much higher volume of transactions to process.

More generally, fully realizing the potential of cross-border e-commerce will require a coordinated implementation of the e-commerce triad of online platforms, logistics and finance involving governmental entities, businesses and other organizations. Because of the inherently multilateral nature of cross-border e-commerce, the establishment of a framework, guidelines and standards and mechanism for evolution and refinement of these elements is crucial.

The First Global Cross-Border E-Commerce Conference, co-hosted by the World Customs Organization and GACC, set an important milestone for what will likely be one of the most powerful trade, economic development and poverty alleviation opportunities in the history of mankind.
Andy Mok is a speaker at the China Speakers Bureau. Do you need him at your meeting or conference? Do get in touch or fill in our speakers' request form.
Are you looking for more e-commerce experts at the China Speakers Bureau? Do check out this list.
Please follow and like us: