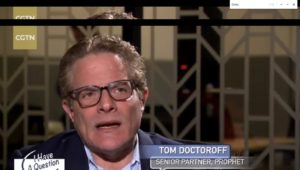 A new generation is emerging to set their mark on China. Marketing veteran Tom Doctoroff looks at the relative newcomers, and how they differ from past generations, for state-owned TV station CGTN. "Post-90s are proudly patriotic, they want to see a strong China," he says.
CGTN:
Tom Doctoroff, senior partner at brand and marketing consultancy firm Prophet, refers to the Post-90s generation as being pragmatic "doers." And there is a reason for why this group of millennials plays stock in the here and now, he says.

"It's a double-edged sword, because on one hand they grew up in a period of rising affluence. But they also became adults in a period of economic insecurity, so they don't have a hundred percent faith that the future is going to be stable."

And if this group of millennials ends up taking a role in government? How will they lead?

Doctoroff says one can take comfort in the fact that the structure of Chinese society is as it has always been, and because of this, millennials respect it and its authority.

"China is still a Confucian society, the relationship between the individual and society is not fundamentally changing. So nobody's looking to blow up the system," he says.

That said, what this new connected generation can bring to the leadership table is balance, driven from their international experiences, Doctoroff says. He expects this group to bring about further reforms in the service sector, and also hopes that they can bring about a more flexible and responsive government.

And this is where Chinese millennials differ slightly from that of the West – where millennials there are profoundly individualistic and think they are the basic unit of the society, Doctoroff says.

"So people are trying to navigate the system here [in China] as opposed to American millennials where they are trying to shape the system so it's really quite different."…

In a nutshell, Doctoroff says the interests of China's New Era and its new generation of Chinese are aligned, citing the post-90s as an increasingly patriotic generation.

"I think Chinese patriotism in this New Era is only going to grow, but I also think the Chinese are pragmatic; they don't want to take over the world," he says.

Doctoroff commends the government's efforts in their focus on innovation and the Internet plus strategy, citing China's economic development program as something that is already liberating the creative energies of many.

However, he says that there are too many technological barriers for young Chinese to discover the world and truly engage with it.

"And I think that this is a mistake because again the millennials, post-90s are proudly patriotic, they want to see a strong China," he says.

"I do not think there is a risk that there's going to be a rebellion, if say, Facebook were available, or if they could read the New York Times via a virtual private network. So I do think it's time to loosen up a little bit without losing control," Doctoroff adds.

That being said, he has a question for this generation of millennials. "How much of this is a life-stage – the fact that they are currently young, relatively free, unmarried – and how much of this is a true generational shift?"

Doctoroff says he is not entirely certain that this group can keep up with their passion as they enter the next stage of life, for instance getting married and having the burden of caring for a family, as well as the financial burden of owning an apartment.

"Can you stop the urge to reinterpret convention based on your own passion, as the demands of survival and  living reassert themselves? That, I am not a hundred percent sure," he says.
Tom Doctoroff is a speaker at the China Speakers Bureau. Do you need him at your meeting or conference? Do get in touch or fill in our speakers' request form.
Are you looking for more branding experts at the China Speakers Bureau? Do check out this list.
Please follow and like us: