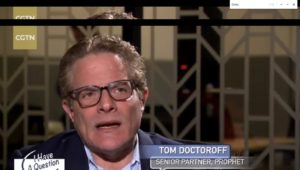 Cartoon Peppa Pig was the latest to get into China's political crosshairs, but it was not the first and will not be the last, says branding expert Tom Doctoroff. For Mumbrella Asia he gives a quick overview of those problems, and some tips to avoid them, and limit the damage when you get caught.
Tom Doctoroff:
But, once anger abates, normalcy returns. Chinese consumers are even more pragmatic than nationalistic. Superior value always wins the day.

That said, there is no room for complacency.

The best armor is a compelling and well-defined brand purpose, a consistent long-term relationship between consumer and brand that underpins all subsequent engagement with that brand. It articulates a brand's calling and how it contributes to consumers' lives.

SK-II overcame its scandal by elevating the brand's purpose from functional anti-aging to an emotive "power to change your destiny."  It resolved a conflict between women's desire to both conform to conventional standards of beauty and escape the confines of societal expectations. The brand's efforts were multidimensional. For example, it created a social movement to arm "left behinds" – unmarried women over the age of 27 – with the confidence to be beautiful at any age.

Brands must also be "customer obsessed".

In an era of consumer empowerment fueled by technology, experience is king. From a delivery app that reveals courier location to facial recognition that generates tailored menu recommendations, KFC occupies a high ground of "seamless personalisation" within the quick service restaurant category.

Starbucks has overcome media brouhahas about tainted meat and price gouging. But business is booming – there are more than 3,000 stores across the PRC – because the brand offers inspired customer experience, not just coffee.
Tom Doctoroff is a speaker at the China Speakers Bureau. Do you need him at your meeting or conference? Do get in touch or fill in our speakers' request form.
Are you looking for more branding experts at the China Speakers Bureau? Do check out this list.
Please follow and like us: