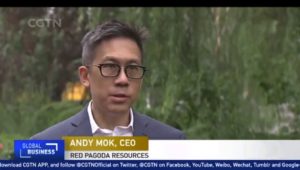 The past World Cup not only gathered a massive audience in China but also marked a switch from classic TV to mobile, says China analyst Andy Mok at CGTN. Content creation has become a major industry in this traditional sport.
CGTN:
Andy Mok, a digital economy observer, said the large World Cup viewership on China's mobile Internet was game-changing, and was made possible by technology, its user base and content creation.

"The smart phone revolution totally reinvented the viewing content participation experience. It used to be many people around one screen, passively absorbing content. Today, it's a multi-screen experience and this is the way, especially the young people, consuming, creating and distributing digital content," Mok told CGTN.
Andy Mok is a speaker at the China Speakers Bureau. Do you need him at your meeting or conference? Do get in touch or fill in our speakers' request form.
Are you looking for more experts on China's digital transformation? Do check out this list.
Please follow and like us: