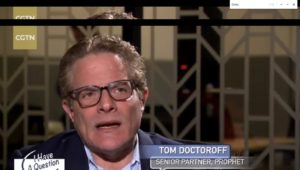 "House of Cards" might be a cynical parody on US politics, millions of Chinese also enjoyed the Netflix production and hade it a huge impact in China. Cultural expert and China expert Tom Doctoroff, author of What Chinese Want: Culture, Communism, and China's Modern Consumer, explains to the Washington Post why. "It essentially confirmed that our government is not so different than theirs."
The Washington Post:
For international viewers under unfriendly regimes, this well-produced caricature of Washington proffers an unspoken truth about the duplicity of American power. And their governments have been all too happy to have their citizens believe that these dark shenanigans are realistic.

Since its debut, the show has reached millions of viewers in China, as well as top leaders of the Communist Party. Netflix isn't available in China (and it doesn't release any data about viewership), but "House of Cards" has received millions of downloads through pirated torrents and third-party streaming websites like SohuTV, which secured the rights from Netflix for the show's early seasons. Sohu ranked the second season, which features a Chinese oligarch trying to influence a U.S. election and a trade war between Beijing and Washington, as the most popular American show on its site after its 2014 release. According to the site, the first season received 24.5 million views in China, with the largest portion coming from residents of Beijing and government employees.

" 'House of Cards' had a huge impact in China," said Tom Doctoroff, the chief cultural insights officer at Prophet, a brand and marketing consultancy, and an expert on the Chinese market, "because it essentially confirmed that our government is not so different than theirs. People took a great deal of satisfaction and maybe a little schadenfreude in that."

The show also portrayed Beijing as the United States' adversarial equal while reaffirming Chinese propaganda about American double talk on democracy and human rights. President Xi Jinping famously referenced the show during a visit to the United States in 2015. Cui Tiankai, China's ambassador to Washington, said in 2014 that "House of Cards" embodied "some of the characteristics and corruption that is present in American politics " and that it highlighted the disadvantages of bipartisan politics.
Tom Doctoroff is a speaker on the China Speakers Bureau. Do you need him at your meeting or conference? Do get in touch or fill in our speakers' request form.
Are you looking for more experts on cultural change? Do check out this list.
Please follow and like us: