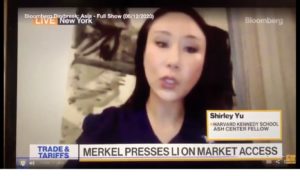 The European Union needs to cooperate with China, argues Harvard scholar Shirley Ze Yu at Bloomberg. While the EU is contracting because of the coronavirus pandemic, China is still showing positive predictions, although at a lower level than in the past. China is eager to expand it's Belt&Road Initiative, and Europe can make good use of it, she tells.
Shirley Ze Yu is a speaker at the China Speakers Bureau. Do you need her at your (online) meeting or conference? Do get in touch or fill in our speakers' request form.
At the China Speakers Bureau, we start to organize online seminars. Are you interested in our plans? Do get in touch.
Are you looking for more experts on the Belt&Road initiative? Do check out this list.