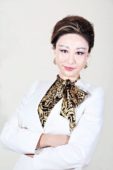 Visiting Senior Fellow, Institute of Global Affairs at the London School of Economics, political economist, board member, author, broadcaster, a global thinker on China
Travels from London
China has emerged as the second-largest economy in the world but has a hard time telling the world its story. Dr. Shirley Yu is one of the very few exceptions in profiling herself as a solid China-voice, giving an alternative viewpoint on a mostly Western take on the developments of China and the world economy.
"Shirley has been a keynote speaker on China's politics and economy to senior boards and executives globally over the past decade, with clients including HSBC, Deloitte, Credit Swiss, Oracle, Veolia, Westpac, Aegon Financial, among many. "
She is a frequent guest on BBC News on China. She is a column contributor to the FT, and South China Morning Post. She is also a keynote speaker at leading global think tanks including the Chatham House, Asia Society, the Wilson Center, Harvard Kennedy School and the LSE, among many.
She was vice President of strategies and innovation of Xin Yuan Group (NYSE  and HKEX-listed), in charge of supervising and building two fintech (blockchain) startups. One of the blockchain companies was ranked in global top 5 in 2017 by patent numbers. She was also the deputy director of the Xin FIntech center under the Tsinghua PBOC School of Finance and co-led teams to draft policy white papers for the Chinese central bank on Fintech reforms
Dr. Shirley Yu is a former China National Television News Anchor, a seasoned senior executive for multinational listed companies and board member. She is a frequent speaker on China's political economy, political philosophy, and geopolitics, in particular, China's Belt and Road Initiative and its geopolitical implications. She is currently a senior visiting fellow with the Institute of Global Affairs of the LSE, a fellow with the Ash Center of Harvard Kennedy School, and deputy director of the Xin Real Estate Fintech Research Center at the People's Bank of China School of Finance of China's Tsinghua University.
She has a Ph.D. in political economy from China's Peking University, and a Master's degree in Government from Harvard University. She has published three books in Chinese, including On China, by Ambassadors, and the Rise of the RMB and the Fall of the Yen. She also serves as a mentor for Cherie Blair's Foundation for International Women.