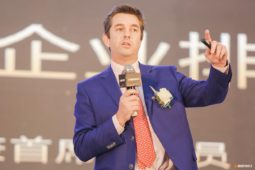 Dropping stock markets have caused a bloodshed at the 2018 Hurun Rich List where 11% dropped off the list compared to 2017. But also 219 new faces entered the list, says Rupert Hoogewerf, Hurun Report Chairman and Chief Researcher at their website. Alibaba's Jack Ma became number one again, pushing out real estate tycoons.
The Hurun 2018 China Rich List:
l  Only 1893 individuals made the cut this year, down 11% from 2130 individuals last year. This is the first drop in the size of the list since 2012. Hurun Report Chairman and Chief Researcher Rupert Hoogewerf said: "A 20% drop in the stock exchange, on the back of a slowing economy and the US-China trade war, resulted in 456 drop-offs this year, the highest since records began twenty years ago."

l  Despite the drop, the number of individuals making the cut of CNY 2 billion is up 89% compared with five years ago, and four-fold that of 10 years ago at the time of the financial crisis. 20 years ago, only eight individuals had CNY 2 billion.

l  Jack Ma Yun, 54, & family shot back to Number One in China for the second time in four years. Ma's wealth increased by US$10bn to US$39bn, on the back of a hike in the valuation of Alipay mothership Ant Financial. 'Real Estate Tycoon' Xu Jiayin, 60, of Evergrande and last year's richest person, claimed second place, followed byPony Ma Huateng of Tencent. Rupert Hoogewerf said: "The Big Three are pulling away from the rest."

l  New faces. There were 219 new faces, led by 38-year old Colin Huang Zheng of e-commerce giant Pinduoduo. Huang started Pinduoduo only 3 years ago and is today worth US$14bn. 5 new faces shot straight into the Top 100 of the Hurun Rich List. Others include 'Battery King' Zeng Yuqun of CATL, a battery maker for the e-car industry, and 'Blockchain King' Zhan Ketuan of Bitmain. Rupert Hoogewerf said, "The scalability of the market coupled with a strong investor ecosystem is creating big new businesses fast."

l  Others that grew fast included 'Hot Pot Power Couple' Zhang Yong and wife Shu Ping, whose wealth shot up ten-fold on the back of an IPO last month. Zhang Yiming, 35, of news aggregator ByteDance, is reportedly in discussion to raise money on a valuation of a staggering US$75bn. Lei Jun of smartphone maker Xiaomi grew 62% to US$16bn to break into the Top 10. Wang Xing of Meituan-Dianping shot up 39 places to 58th.

l  Down. Wu Gang, 41, and Huang Xiaojie, both of JD Capital saw their wealth drop 85%, Meitu's Wu Xinhong and Cai Wensheng saw their wealth drop over 50%, Jiang Bin and wife Hu Shuangmei of acoustic component maker GoerTek saw their wealth drop by over 50%, last year's richest self-made women 'Touchscreen Queen' Zhou Qunfei and husband Zheng Junlong saw their wealth drop 45%.
Rupert Hoogewerf is a speaker at the China Speakers Bureau. Do you need him at your meeting or conference? Do get in touch or fill in our speakers' request form.
Are you looking for more stories by Rupert Hoogewerf? Do check out this list.
Please follow and like us: