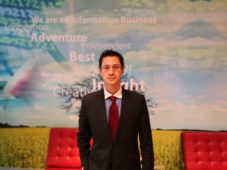 Founder and Managing Director of the China Market Research Group (CMR)
Travels from: Shanghai
Get in touch with us to check the availability of this speaker
Shaun Rein is the Managing Director of the China Market Research Group (CMR), the world's leading strategic market intelligence firm focused on China. He is one of the world's recognized thought leaders on strategy consulting in China.
In December 2017 he published his third book on China, The War for China's Wallet: Profiting from the New World Order, setting strategies for making money doing business with China.
He published earlier The End of Copycat China: The Rise of Creativity, Innovation, and Individualism in Asia, in 2014, setting the agenda for China´s economic developments.
His first book "The End of Cheap China: Economic and Cultural Trends that will Disrupt the World" was published in March 2012 by John Wiley & Sons in the US.
He is often featured in the Wall Street Journal, The Economist, The Financial Times, Bloomberg, and the New York Times. He is regularly interviewed by American Public Radio's Marketplace and NPR. He frequently appears to deliver commentary on CNBC's Squawk Box, Bloomberg TV, CBS News, and CNN International TV.
He earned his Master's degree from Harvard University focused on China's economy and received a BA Honours from McGill University.
Donald Trumps helps Chinese companies to focus on innovation, says Shaun Rein at the WSJ Tech Live conference (2019)

Shaun Rein explains how foreign firms can avoid political problems in China (2019)

Shaun Rein explains how China became a politicized society (2017)

Shaun Rein on the End of Copycat China


Shaun Rein explains at the WSJ how the sports wear industry in China is different, and why Adidas jumped 15% in 2012.

Shaun Rein at CNN's "On China", November 2012

Shaun Rein at CNBC, February 2012, on his book "The End of Cheap China"

Shaun Rein on "The End of Cheap China"
Shaun Rein explains to Bloomberg why Olympic sponsoring is not working in Beijing
Shaun Rein on how food and other security problems haunt China's consumers

Visit msnbc.com for breaking news, world news, and news about the economy
Shaun Rein's topics:
Chinese youth
Digital marketing
Venture Capital
Middle class/economic growth
HR issues
The audio edition of "The End of Cheap China" is available here.
Please follow and like us: