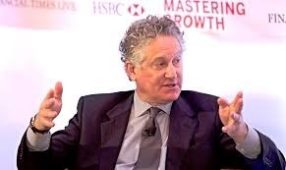 Current: Partner and Chair, Emerging Markets Practice, Berkeley Research Group LLC (Global Litigation Expert Witness Consulting Firm on Trade/Investment Disputes and Arbitration, Antitrust, CFIUS, Corporate Governance, FCPA, Regulation, and Damages); CEO and Managing Partner, Proa Global Partners LLC (Global Transaction Advisory Firm); Johns Hopkins Faculty; Corporate Board Director; Monthly Columnist for Forbes, Newsweek, and Gulf News.
Former: U.S. Assistant Trade Representative; Chief of Staff, President's Council of Economic Advisers; International Private Equity Investor; Founder, PwC Business Growth Management Consulting Practice; Harvard Professor; RAND
Travels from Washington DC, USA
Harry G. Broadman is a globally renowned international finance executive, investor, trade negotiator, and authority on business growth, risk-mitigation, corruption, corporate governance, and innovation.  An early serial entrepreneur, he's re-invented himself more than a handful of times—not only in an interdisciplinary fashion, but also across greatly differentiated senior roles in the private sector, interspersed with stints as a high-level policy maker and regulator.
Are you interested in having Dr. Broadman as a speaker? Do get in touch.
Harry G. Broadman has been working professionally in China since 1986, when, as a senior U.S. Senate Chief Economist, he travelled from Urumqi across the Gobi Desert back to Beijing by minibus, freight train, carriage and even camel along the path of the ancient Silk Road—all to assess Western China's development prospects. In the decades following, Dr. Broadman's on-the-ground expertise in the operations of Chinese businesses and banks has become extensive. He's often been told by his Chinese friends that he's been on the factory floor of more firms across the entire country than any one they know.
Dr. Broadman was in a private equity investment fund exclusively focused on emerging markets, including China. Earlier, as a business partner with Madeleine Albright in her business diplomacy firm—now Albright Stonebridge- Dr. Broadman worked with many U.S. and non-U.S. corporations on their transactions in China. For more than a decade, Broadman served as the World Bank's lead interlocutor with the Chinese authorities at the central, provincial and municipal levels on all aspects of the government's state-owned enterprise (SOE) asset and corporate governance reform program, including the design and execution of some of the Bank's largest financial operations in the country on enterprise restructuring. He also advised the government on restructuring the Special Economic Zones as well as the accession to WTO.
He emerged as a genuine thought-leader on the unforeseen dynamics that have changed the underlying structure and character of world markets long before the term "globalization" was commonplace.  These insights shaped his career focus on strategies that propel firms' competitiveness, especially in emerging markets, the parts of the world toward which he has always had a strong predisposition. He has worked on the ground in more than 75 such countries across 5 continents, especially throughout China, India and the rest of Asia; most of Latin America; almost every Former Soviet Union state; across all Eastern and Central Europe, the Balkans and Turkey; much of Africa; and parts of the Middle East.
A strategic advisor to C-suites and boards, Broadman has counseled companies and investment institutions as diverse as GE, IBM, Coca-Cola, Canon, Exxon-Mobil, Valmet, Pepsi, Abraaj, Corning, Heineken, Merck, Walmart, Deere, the Canadian Pension Plan Investment Board, Intel, ICANN, SunEdison, Illinois Tool Works, Westinghouse, Siemens, Standard Chartered, Microsoft, Manitowoc, PPG, Tyco, Caterpillar, Dow, McCormick, CEMEX, and Avon.
As a speaker, Harry brings to audiences a unique combination of fundamentally insightful and pragmatic views about how commercial, financial and policy changes that drive international markets, will alter enterprises' opportunity-risk tradeoffs in ways few ever could have predicted.  Rather than using a 'rear-view mirror' approach, he provides a prospective prism to frame critical business decision-making challenges. Moreover, he exposes the ways markets intrinsically tend to operate in 'non-linear' patterns. Aside from leaving audiences with concrete, operational takeaways, his speeches are entertaining and infused with his infectious sense of humor.
Some recent testimonials (2019)
Harry Broadman spoke at our bi-annual US Cotton Summit to a very diverse global audience of over 400 people from 30 countries and wowed them with his impressive knowledge of the world and his insights about how history is shaping so many of the current issues we face. We had very positive reviews in our follow up survey and I would heartily recommend Harry as a speaker.
– Bruce Atherley, Executive Director, Cotton Council International
Harry Broadman was asked to speak spontaneously and interactively with another expert on the "Challenges of China Today and Tomorrow".  Harry's expertise, sense of the audience and demeanor allowed for a level of enhanced enlightenment beyond our expectations.
– Earl Wright, Chairman, AMG Bank
Dr. Broadman's trenchant, actionable and compelling insights were most beneficial to our organization. The feedback from our guests was overwhelmingly positive
– Lee Roberts, Managing Partner, Sentinel Risk Advisors and Share-Vu Capital
Harry's keynote speech at the Institute for Private Investors' Spring Forum in New York was confident-inspiring, insightful, and extremely well-received by our members.
– Mindy Rosenthal, President, Institute for Private Investors
For his recent articles, do check this list.


Please follow and like us: