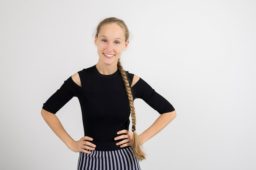 Ashley is a China marketing expert with 15 years of professional experience in China. Ashley is fluent in Mandarin, Russian, German and English.
She travels from Hong Kong.
Ashley is a China marketing expert, serial entrepreneur, professional speaker, bestselling author, vlogger, podcaster, media contributor and female entrepreneurship spokesperson. She is the founder of several startups, including social media agency Alarice.com.hk and resources & training company ChoZan.co.
She co-authored Digital China: Working with Bloggers, Influencers and KOLs, published in November 2018.
Ashley is a member of Alibaba's Global Influencer Entourage and works directly with a Tencent core founder to conquer Western social media. She runs Asia's #1 entrepreneurship vlog at www.youtube.com/c/AshleyTalksChina. She's also the world's #1 China marketing blogger at AshleyTalks.com.
Her book, "Unlocking the World's Largest E-Market: A Guide to Selling on Chinese Social Media", is the #1 book about social media marketing in China and a #1 Amazon bestseller in 2 categories.
Ashley is a professional speaker and workshop facilitator. Her topics include Social Media Marketing, Personal Branding, Female Entrepreneurship and Marketing in China. In 2017 alone she spoke at 58 events across Asia, Europe, and the Middle East. Ashley frequently gives talks for multinationals such as Richemont, Tetra Pak, Shangri-La and industry conferences such as the China Marketing Summit, the WeChat Conference, New Retail Convention, Global Tourism Forum, etc.
She is also the host of a 1-min business show on OneTV in Hong Kong.
Ashley is a regular contributor to The Next Web, China Daily, Econsultancy and Jumpstart Magazine. She is regularly interviewed by Forbes, CNBC, Huffington Post, SCMP, Technode, Asia Times, Hong Kong Economic Times, Ming Pao, Jing Daily, Wen Wei Po, The Asian Entrepreneur, HK01, Macau Business Daily, Branding in Asia, etc.
She is the host of the AshleyTalks Podcast, where she interviews top thought leaders from across Asia about entrepreneurship, marketing, women in business, China, tech and more.
Some of the subjects Ashley covers:
– Modern Chinese Consumers: What Do They Want and How to Sell It to Them
– WeChat: A 360 Understanding of China's Most Powerful Social Media
– WeChat: How to Get Your First 10,000 Followers
– Going Viral in China: The Secret to Managing Chinese KOLs
– How and why is China shaping the future of global retail
– China's transformation to a cashless society
– Playing tourists: modern Chinese tourists and how to capture their attention
Client testimonials
Ashley is our highest rated speaker
~ Jefrey Gomez ,Econsultancy ( praise for Econsultancyevent in Singapore)
What a great presentation! Ashley broke all the record in terms of audience engagement in history of our conference
~ Terry Ng, Startup Launchpad HK
Awesome insights about China with passion and enthusiasm.
~ Amanda Heng, Marketing lead APAC, Harman Professional Solutions
Ashley is so full of energy and insights. She is without a doubt one of our highest rated speakers ever
~ Michael, Global From Asia
Beyond insightful! Ashley is a great speaker.
~ Cher Lee, Marketing Executive, Renesas
Incredibly informative.
~ Ben Ross, Director, Ross Management
Are you interested in having Ashley as a speaker at your event? Do check out her availability here. 






Please follow and like us: