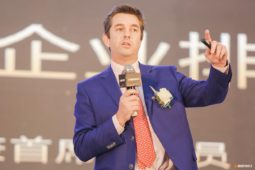 Three Chinese companies, Ant Financial, Didi Chuxing and Bytedance top the inaugural global unicorn list 2019 for startups in this century, says Hurun chief researcher Rupert Hoogewerf according to the CEO Magazine.
The CEO Magazine:
The 10 top unicorns, businesses created in the 2000s, are worth US$542 billion, according to Hurun Research.

Hurun Research Institute has released the inaugural Hurun Global Unicorn List for 2019. All the top unicorns are not on a stock exchange and valuations are a snapshot on 30 June.

"We have found just under 500 unicorns in the world. The Hurun Global Unicorn List 2019 is designed to inspire entrepreneurship among wannabe entrepreneurs and encourage investors. These young companies, only seven years old on average, are the world's most exciting start-ups, leading a new generation in disruptive technology," said Hurun Report Chairman and Chief Researcher Rupert Hoogewerf, also known by his Chinese name Hú Rùn.

Hurun Research Institute found 494 unicorns in the world, based in 25 countries and 118 cities. They were created seven years ago on average, are worth US$3.4 billion on average and US$1.7 trillion in total.
Rupert Hoogewerf is a speaker at the China Speakers Bureau. Do you need him at your meeting or conference? Do get in touch or fill in our speakers' request form.
Are you looking for more stories by Rupert Hoogewerf? Do check out this list.
Please follow and like us: