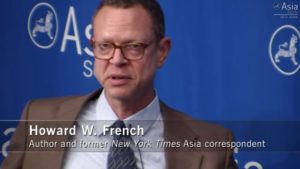 Countries in Europe, Africa and other parts of the world have turned to China to seek for help in their struggle against the coronavirus, as the European Union and the US are failing to offer assistance. But China expert Howard French wonders at the Intercept whether China can face up to this new challenge.
The Intercept:
Howard French, journalist and author of "Everything Under the Heavens: How the Past Helps Shape China's Push for Global Power," cast doubt on China's ability to save the day. "If this becomes generalized, I have a very hard time imagining China has on hand, or even has the ability to crank up, production of quantities of ventilators sufficient to address the urgent care needs of large numbers of people like this in many, many countries all at once," he said.
Howard French is a speaker at the China Speakers Bureau. Do you need him at your meeting or conference? Do get in touch or fill in our speakers' request form.
Are you looking for more experts to deal with your China questions? Do check out this list.
Please follow and like us: