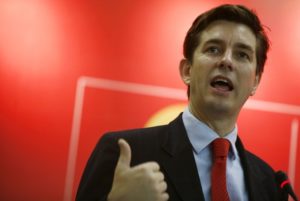 China's electric car makers saw their value rise over the past post-corona months, as they believe they can produce an alternative for US-car maker Tesla, says Rupert Hoogewerf, chairman of the Hurun China rich list to the South China Morning Post. 
The South China Morning Post:
The California-based marque leads China's premium electric vehicle segment, buoyed by locally built Model 3 sedans. Tesla delivered 79,908 made-in-Shanghai Model 3s in the first nine months of this year, beating its Chinese rivals by a large number amid a slump in the overall market due to the Covid-19 pandemic.

In September, Nio delivered 3,226 of its ES6 sport-utility vehicles, a year-on-year increase of 87 per cent. But it was still behind Tesla by quite a distance, as the US company sold 11,329 Model 3s the same month.

Rupert Hoogewerf, the chairman and chief researcher at Hurun Report, which compiles the Hurun China Rich List, said the rallies in Chinese electric carmakers had resulted from a belief that they would evolve into China's answer to Tesla in the future.

"The sector is interesting to watch because they are potential game changers in the automotive industry," he said. "We don't know the answer yet to whether they can become powerful players in the fast-changing automotive industry."
More at the South China Morning Post.
Rupert Hoogewerf is a speaker at the China Speakers Bureau. Do you need him at your (online) meeting or conference? Do get in touch or fill in our speakers' request form.
Are you looking for more stories by Rupert Hoogewerf? Do check out this list.
Please follow and like us: