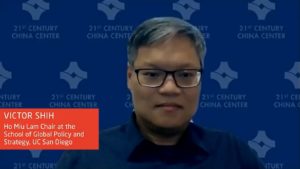 US president Joe Biden and China's President Xi Jinping plan a virtual meeting next week, after months of rising tension between both economic giants. Political analyst Victor Shih sees the meeting as a step forward, he tells CNN.
CNN:
US officials revealed last month that they had reached an agreement in principle with China to hold a virtual meeting between Biden and Xi before the end of the year, as part of an effort to ensure stability in one of the world's most consequential and fraught relationships.

That tentative agreement was the result of an extended, six-hour meeting between Biden's national security adviser Jake Sullivan and China's top diplomat, Yang Jiechi in Switzerland, just days after Beijing sent record-breaking number of warplanes into Taiwan's defense zone.

Victor Shih, an expert on elite Chinese politics at the University of California, San Diego, said the meeting is a positive development for bilateral relations.

"I think the bilateral meeting next week is a preliminary sign that the relationship between the US and China is getting back on a more normal track — than (what) had been the case in the later Trump years," Shih told CNN.

The meeting is also likely to motivate officials, especially on the Chinese side — from the Foreign Ministry to the Commerce ministry — to once again focus their energy on US-China relationship and think of ways to improve it, Shih added.

The last time Biden and Xi spoke was in September, in a phone call that lasted roughly 90 minutes.
Victor Shih is a speaker at the China Speakers Bureau. Do you need him at your (online) meeting or conference? Do get in touch or fill in our speakers' request form.
Are you looking for more political experts at the China Speakers Bureau? Do check out this list. 
Please follow and like us: