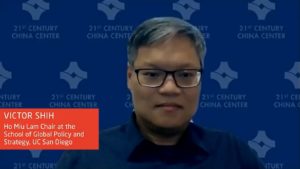 The nomination of Li Qiang as the number two of China's Communist Party was one of few surprises at the 20th CCP conference last week, says political analyst Victor Shih at CNN. Li Qiang, Shanghai's party chief, was responsible for the city's much-discussed two-month corona lock-down.
CNN:
While the lineup revealed Sunday is the top tier of the Communist Party, those selected will then go on to fill top government positions, as appointments are made in the coming months ahead of a key meeting of the country's rubber-stamp legislature in March.
The new lineup means Xi will also gain greater control over all aspects of the Chinese state, including the economy, which is traditionally the domain of the premier, who heads its State Council.

That position is now expected to be placed in the hands of Shanghai party chief Li Qiang, a long time Xi loyalist who has been appointed to the number-two role in the party, despite the backlash that followed a chaotic two-month Covid-19 lockdown in Shanghai earlier this year.

CNN:

Li's appointment is one of several "norm-busting" elements of this year's leadership reshuffle, according to Victor Shih, an expert on elite Chinese politics at the University of California San Diego, who noted that Li's appointment will place a leader without any State Council experience at the head of that body — something not seen in decades.

"The Chinese economy and the State Council itself are so much more complex today compared to the 1980s. Not having that experience is going to at least initially make the job of running China's state machinery that much more challenging," said Shih, the author of "Coalitions of the Weak," a book about elite politics in China over recent decades.

Meanwhile, the concentration of power "introduces a certain unhealthy dynamic in policymaking in that the people who are close to him are those who, over the years, have honed the skills of always agreeing and supporting Xi Jinping's opinion," he said.
Other new members include Cai, 66, party boss of Beijing and one of Xi's most-trusted confidants; Li Xi, 66, current party chief of China's southern economic engine Guangdong province and trusted Xi ally, who is expected to oversee the anti-corruption organization; and Ding, 60, Xi's chief of staff and close aide.
Victor Shih is a speaker at the China Speakers Bureau. Do you need him at your (online) meeting or conference? Do get in touch or fill in our speakers' request form.
Are you looking for more political experts at the China Speakers Bureau? Do check out this list.
Please follow and like us: