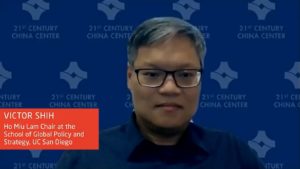 China's leaders face unprecedented protest against its rigid anti-covid policy after earlier this week ten deaths in Urumqi were to blame for that. Political analyst Victor Shih sees China's Communist Party walking on a tight rope, he says in the Hindustan Times.
The Hindustan Times:
An expert on China said Beijing has missed maintaining a balance between Covid control and economic growth, leading to citizens' anger.

"Basically, what the (Chinese) leadership wants, a fine balance between growth and Covid control, is beyond the capacity of grassroots level enforcers. Instead, they are using draconian measures which invite popular anger," Victor Shih, Associate Professor, School of Global Policy and Strategy, UC San Diego, expert on Chinese elite politics, said.

There is apprehension that the ruling Communist Party of China could respond with hard measures against the protesters.

"In the short term, the government walks a tight rope between too little repression, which may lead to more protests, and too much, which triggers backlash protests. Unfortunately, with the pervasive surveillance in China, the government will be able to arrest and punish the ring leaders after things have cooled," Shih added.

"However, with Covid policies still unclear, popular anger may persist for a long period of time, something the regime has not had to deal with for decades," Shih said.
Victor Shih is a speaker at the China Speakers Bureau. Do you need him at your (online) meeting or conference? Do get in touch or fill in our speakers' request form.
Are you looking for more political experts at the China Speakers Bureau? Do check out this list.
Please follow and like us: