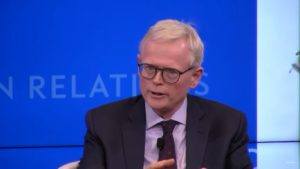 At the start of his third term China's president Xi Jinping has been flexing his muscles internationally, while the country also promised to be open for private and foreign business. Ian Johnson, a scholar at the Council on Foreign Relations, tries to make sense of the conflicting messages at the CFR website.
Ian Johnson:
Over the past few months, the Joe Biden administration has limited the export of high-tech chips to China, and made a series of serious allegations against it—to date, without concrete evidence. They include alleging that a Chinese balloon blown off course was a spy balloon, and that China was considering sending weapons to Russia to help it in its war against Ukraine. The United States has also renewed scrutiny into whether COVID-19 could have stemmed from a Chinese laboratory leak.

In this context, Xi and [the new foreign minister ]Qin [Gang]'s rhetoric can be seen as evidence of China's resolve, even as both sides try to stabilize the relationship. Over the coming weeks, the U.S.-China relationship will be further tested by a visit from Taiwanese President Tsai Ing-wen to the United States, and hearings by a congressional committee on China that seems chiefly dedicated publicizing to Chinese problems and failings.

At the same time, Xi and his team sought to show that China is back open for business after years of a highly restrictive lockdown that slowed economic growth.

In talks at the session, Xi said that private entrepreneurs are "one of us," countering the conventional view of Xi as hostile to private business. He also has a new premier, Li Qiang, who is widely seen as sympathetic to foreign business.

Li epitomizes the tension between the pro-market growth that has made China rich and the emphasis on stability and control that Xi favors. Li was previously the reform-minded party secretary of Shanghai, and a year ago, he also experimented with ending the city's zero-COVID policy—before an outbreak forced him to reverse course and implement a harsh lockdown.

Xi said during the meetings that there is no contradiction between the two positions, saying "security is the foundation of development, and stability is the precondition for strength and prosperity."

Speaking at the closing press conference on March 13, however, Li gave a robust defense of private enterprise, promising to "treat companies under all forms of ownership as equals."

Li's concrete policies, however, are still unclear.
Ian Johnson is a speaker at the China Speakers Bureau. Do you need him at your meeting or conference? Do get in touch or fill in our speakers' request form.
Are you looking for more political experts at the China Speakers Bureau? Do check out this list.
Please follow and like us: