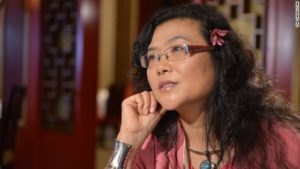 The draft law banning clothes deemed offensive to national feelings in China has triggered much debate. Author and journalist Zhang Lijia dives and looks back at the campaigns from her youth at the Nanjing rocket factory, and more recent incidents, for the South China Morning Post.
Zhang Lijia:
Last summer, a young woman doing a photo shoot in Suzhou was detained by the police simply because she was 

wearing a kimono

. Last month, people wearing shirts with rainbows, seen as a 

pro-LGBTQ

 symbol, were not allowed to enter a concert in Beijing.

The Chinese authorities have always liked to behave like a parent, offering citizens all sorts of advice on matters minor and major. In 2019, they issued "morality guidelines" which directed people to be polite, travel with a lower carbon footprint and have "faith" in the Communist Party.
But the latest proposed law goes a bit too far. Some have speculated that kimono wearers are likely to be the target. Anti-Japan sentiment has long run high in China because of imperial Japan's war atrocities, such as the massacre at Nanjing. After police detained the kimono-clad woman in Suzhou last year, netizens debated whether donning a kimono was unpatriotic.The debate has flared up again. If wearing a kimono went against the proposed law, one netizen wondered, what about Western-style clothing? Another responded by noting that Western-style clothing is a symbol of Western culture and can be seen as a symbol of Western invaders, so why wouldn't wearing Western-style clothing constitute hurting national feelings?

The problem is that the draft law is vague. The proposed change does not specify the kinds of clothing that would constitute a violation…
An incident in Wuhan has only reinforced people's concerns. About a week ago, video footage emerged of a group of young people in 

hanfu

 at Panlongcheng National Archaeological Site Park, a public park, who were repeatedly told to leave by security guards who thought they were in kimono – even though they explained they were in Tang dynasty costume.

I am delighted to see the outpouring of criticism over the contentious draft amendment. Hopefully, if opposing voices are loud enough, the authorities will listen and rethink going ahead with it. Personal freedom should be respected.
More at the South China Morning Post.
Zhang Lijia is a speaker at the China Speakers Bureau. Do you need her at your meeting or conference? Do get in touch or fill in our speakers' request form.
Are you looking for more political experts at the China Speakers Bureau? Do check out this list.
Please follow and like us: