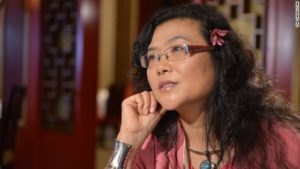 China is proud of its millennia-old culture, but just like the rest of its society, its culture is also changing very fast. Old concepts like guanxi, losing face and the suppressed position of women are no longer what they were even a few decades ago. Many so-called China experts still cling to those old ideas, but fortunately, we can offer a range of speakers at the China Speakers Bureau who have a clear view on how China´s culture is changing today, and sometimes reaching back to the past.
Those speakers include (but are not limited to):
Zhang Lijia is a factory worker turned author. From assembling rockets in Nanjing, she turned herself into a social commentator based in Beijing.
Her autobiography "Socialism Is Great!": A Worker's Memoir of the New China has been the basis of her current work on China´s fast changing society and especially the position on women.
January 2017 she published Lotus: A Novel, on prostitution in China and well received in a large number of reviews.
You can read some of Zhang Lijia´s stories here.
Shaun Rein, prolific author and speaker on China´s fast changing realities. After his first bestseller The End of Cheap China, Revised and Updated: Economic and Cultural Trends That Will Disrupt the World he published in 2014 The End of Copycat China: The Rise of Creativity, Innovation, and Individualism in Asia.
He is a keen observer and often just ahead of the thinking curve, leading the way in mainstream media and other ways for those exploring what is going on in China.
You can read more of Shaun Rein´s stories here.
Arnold Ma is a marketing expert focusing on the cultural change among China's youth and its subculture. Based in London, his agency Qumin helps global companies to figure out how to deal with China's millennials, who have very little in common with the older generations.
The unprecedented growth and unparalleled development of China's economy over the last 30 years brought about important changes within the society. The adaptability and global awareness of China's younger generation are way beyond those of their ancestors, for example, he says.
You can read his full profile here.
Are you interested in more stories by Arnold Ma? Do check out this list.
Kaiser Kuo is a leading voice on the interaction between society and technology. Until May 2016 he served as director communication of China´s largest internet company Baidu, he was at the forefront of change.
As an independent voice, he is able to work as a bridge-builder between China´s developments and the outside world.
You can read some of his contributions here.
Ian Johnson is a veteran foreign correspondent with a decades track record of documenting cultural change in China.
In April 2017 he published his long-awaited book on religion in China,The Souls of China: The Return of Religion After Mao
Awarded with a Pulitzer prize, Ian Johnson worked for twelve years for the Wall Street Journal as a feature writer and bureau chief. He is now a regular contributor to the New York Times, the New York Review of Books, the New Yorker, and National Geographic.
He has been coming to and living in China from 1984, longer than almost any other foreign journalist. He can cover a wide range of subjects including China's economic prospects, foreign relations, elite politics, migration. He is fluent in English, Chinese and German.
You can read more of his stories here.
Tom Doctoroff is the leading authority on marketing in China. His successful book Billions: Selling to the New Chinese Consumer has founds its way to the shelves of almost every company working in China. Mr. Doctoroff switches in his speeches easily from a hand-on approach to a higher level, and prevents any confusion by telling again many real life stories from the dynamic marketing scene in China.
In a very visual style, loaded with telling examples Mr. Doctoroff tells the compelling story of China's emerging consuming middle class. His humor and dynamics makes his subjects attractive for highly diverse audiences.