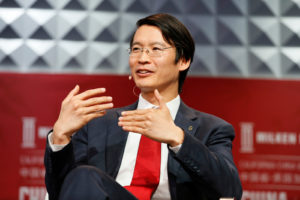 Managing partner at New York-based CloudTree Ventures, former managing director at China Investment Corporation (CIC), adjunct professor at NYU, investor, attorney, and author on the global digital economy.
He travels from New York
Winston Ma is one of a small number of native Chinese who have worked as investment professionals and practicing capital markets attorneys in both the United States and China. Most recently for 10 years, he was Managing Director and Head of North America Office for China Investment Corporation (CIC), China's sovereign wealth fund.
At CIC's inception in 2007, he was among the first group of overseas hires by CIC, where he was a founding member of both CIC's Private Equity Department and later the Special Investment Department for direct investing (Head of CIC North America office 2014-2015). He had leadership roles in global investments involving financial services, technology (TMT), energy, and natural resources sectors, including the setup of West Summit (Huashan) Capital, a cross-border growth capital fund in Silicon Valley, which was CIC's first overseas tech investment.
Prior to that, Mr. Ma served as the deputy head of equity capital markets at Barclays Capital, a vice president at J.P. Morgan investment banking, and a corporate lawyer at Davis Polk & Wardwell LLP. Nationally certified Software Programmer as early as 1994, Mr. Ma is the book author of China's Mobile Economy (Wiley 2016, among "best 2016 business books for CIOs"), Digital Economy 2.0 (2017 Chinese), The Digital Silk Road (2018 German), China's AI Big Bang (2019 Japanese), and Investing in China (Risk Books, 2006). His latest book "The Hunt for Unicorns: How Sovereign Funds Are Reshaping Investment in the Digital Economy" (Wiley Publishing) will be released in October 2020 and the new book "China's Digital Economy" is forthcoming December 2020.
Mr. Ma has served on the boards of multinational listed and private companies. He was selected a 2013 Young Global Leader at the World Economic Forum (WEF) and has been a member of the Council for Long-Term Investing and Council for Digital Economy and Society. He is a member of New York University (NYU) President's Global Council since its inception, and in 2014 he received the NYU Distinguished Alumni Award.
Mr. Ma earned his MBA from the University of Michigan Ross Business School (Beta Gamma Sigma) and his master of comparative jurisprudence from the New York University School of Law (Hauser Global Scholar). He earned a bachelor of science and a bachelor of law degrees from Fudan University in Shanghai, China. He has served as adjunct professor at NYU School of Law (current course "Sovereign Investments & Regulations"), NYU Stern Business School, and Tsinghua School of Economics and Management.
Winston Ma discusses his background as an investor, attorney, and financial executive and the many other experiences he collected, with Stephen Ibaraki at "The brand called you".
Winston Ma explains at the state-owned CGTN how China leapfrogged the US in terms of technology, by taking advance by using mobile first, AI and now the digital currency. (2022)
Winston Ma talks on the 2021 regulations of cryptocurrencies at CNBC"
He wrote books and speaks on the following subjects:
The Digital War: How China's Tech Power Shapes the Future of AI, Blockchain and Cyberspace
The Hunt for Unicorns: How Sovereign Funds Are Reshaping Investment in the Digital Economy
China's Mobile Economy: Opportunities in the Largest and Fastest Information Consumption Boom
and additionally: China's sovereign funds, China's digital Belt and Road Initiative, big data and asset management, data regulation, privacy, blockchain, and digital currencies.