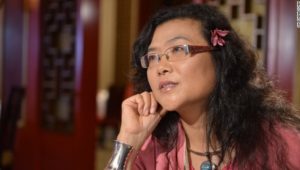 Female students have been accusing their teachers and supervisors of sexual harassment at Chinese colleges and universities. Author Zhang Lijia of Lotus: A Novel on prostitution in China, tells NewsChina she is not really amazed.
NewsChina:
Zhang Lijia, a feminist writer and social commentator based in Beijing, told NewsChina that sexual harassment on campus shows that despite improvements, women – including the highly-educated – remain largely in the shadow of men in traditionally maledominated China. Zhang said sexual harassment was prevalent in many places and was rooted in "the Confucian ideology that has dominated China for centuries."

"It places women in an inferior position. The issue of campus harassment attracts more attention partly because educated women are less willing to put up with it, and more willing to speak out," she said. "But sadly, male chauvinism still dominates in today's China."…

"The authorities should establish a mechanism that includes specific measures to prevent, investigate and punish. And more importantly, we need an atmosphere that doesn't place pressure on victims," Zhang Lijia told our reporter.

"The perfect relationship between an academic adviser and a graduate student is respect for each other."
Zhang Lijia is a speaker at the China Speakers Bureau. Do you need her at your meeting or conference? Do get in touch or fill in our speakers' request form.
Are you looking for more female speakers at the China Speakers Bureau? Do check out this list.
Please follow and like us: