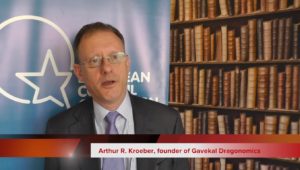 The world was once again flabbergasted by the US trade measures since it did hurt designated trade enemy China less than potential US allies again China, says leading economist Arthur Kroeber, author of China's Economy: What Everyone Needs to Know®. Behind those measures are efforts to design a whole new playbook, to change global economy, he tells both Livemint and Bloomberg.
Livement:
Transparent Trump is doing exactly what he promised supporters on the campaign trail. He pledged to take on a Chinese government he claimed was "raping" and "killing" American workers. Trump makes no secret he's miffed that Xi hasn't curbed North Korea's exploits. He's desperate to change the narrative away from the Russia and corruption scandals swirling around his White House. How better than launching a trade war?

Trouble is, Trump hasn't considered the consequences. "The real problems," says Arthur Kroeber of Gavekal Dragonomics, "are second-order effects, relating to the systemic impact of the US thumbing its nose at the global trading system it worked so hard to build. The basic question, impossible to answer at the moment, is whether this move is a one-off, driven by Trump's visceral desire to impose big tariffs on someone?"

While Xi's China is the target, Washington's tariffs will hit Brazil, Canada, European Union, Japan, Mexico, South Korea and Taiwan—all, in theory, US allies. And for what? China exports just a small fraction of steel and aluminium output to Trumpland. As such, Kroeber says, Trump's tariffs "make it far harder to organize resistance to Chinese bad behaviour".
More in Livemint. (Since the article has been published, Australia, Canada and Mexico have been exempted from trade levies.)
Bloomberg:
"The trade and security hardliners want to write a new playbook — they believe China has prospered thanks to a cynical manipulation of global trade rules, and is now using the profits to subsidize huge investments in crucial technologies," Arthur Kroeber, head of research at economic consultancy Gavekal Dragonomics in Beijing, wrote in a recent note.

While some in China press the U.S. for a list of demands for a deal, ultimately the Trump administration may not be seeking specific trade or market-access measures. For example, Trump didn't press for U.S. banks to get greater access to China when he visited Beijing in November, China announced the measure after he left.

Hard-liners instead are seeking "to either get China to dismantle its industrial-policy edifice and conduct its economy more along Western lines, or failing that, ensure the U.S. defeats China in the race for technological supremacy," Kroeber said. The context is that among Xi's priorities is reducing reliance on foreign technology — including a push for China to achieve a leadership position in semiconductor design and manufacturing.
Arthur Kroeber is a speaker at the China Speakers Bureau. Do you need him at your meeting or conference? Do get in touch or fill in our speakers' request form.
Are you looking for more strategy experts at the China Speakers Bureau? Do check out this list.

Please follow and like us: