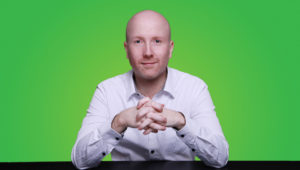 Much attention goes to the epic battle between China's internet giants Alibaba and Tencent. But WeChat expert Matthew Brennan does not see why one of their payment systems, Alipay and WeChat Pay, should defeat the other. He sees room enough for both, he tells That's Magazine.
That's Magazine:
At present, China's two major players in the mobile payment space, Alipay and WeChat Pay, hold about 54 and 40 percent of the market share respectively, according to a 2017 iResearch report. China Channel cofounder Matthew Brennan attributes their dominance to the strengths of their parent companies, ecommerce giant Alibaba, and Tencent, the world's most valuable social network conglomerate…

Brennan adds, "Both platforms, however, have successfully adapted themselves into the virtual world and into the offline economy… at the end of the day, I don't think it's about one winning or losing, as both are well-equipped to thrive in the market."

The US might be the world's largest economy, but when it comes to mobile payment, the Chinese are way ahead. China's total mobile payment transaction revenue was 50 times more than their American counterparts in 2016. Meanwhile, 52 percent of Chinese say less than 20 percent of their monthly transactions are conducted with bills and coins, according to the '2017 Mobile Payment Usage in China' study published by China Tech Insights.

Credit card companies and many Westerners' ingrained habit of using cards as their primary payment option have prevented mobile payments from taking off, according to Brennan…  In a country where Visa, Mastercard and American Express still have yet to fully penetrate through the masses, Chinese consumers were able to easily move on from cash and plug themselves directly into the ecosystem that Alipay and WeChat Pay have created.
Matthew Brennan is a speaker at the China Speakers Bureau. Do you need him at your meeting or conference? Do get in touch or fill in our speakers' request form.
Are you looking for more fintech experts at the China Speakers Bureau? Do check out this list.
Related articles
Please follow and like us: