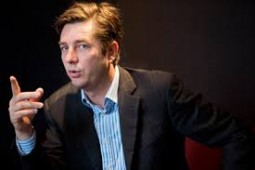 Rupert Hoogewerf – chief researcher and founder of the Hurun China Rich List – is a busy man. Every three days, a new unicorn – a company valued over 1 billion US dollar and unlisted – emerges in China, shows his latest report. "If model, talent and capital are all in place, start-ups can move very fast," said Rupert Hoogewerf to the Global Times.
The Global Times:
The total number of such companies stood at 151 as of the end of March, said the report.

Among 33 newly listed unicorn companies, Tencent Music, a streaming and downloading services provider like Spotify, ranked first in terms of market valuation worth 150 billion yuan ($23.89 billion), followed by JD Logistics with 70 billion yuan.

Around one-third of the companies are in the internet services sector including Ziroom, an online platform for apartment renting and sharing.

Next came culture, entertainment and mobility, with Aiways Technology Co, a 1-year-old Shanghai-based internet start-up focused on intelligent and electric vehicles, being the youngest unicorn.

Aiways said on Sunday that it has secured three rounds of financing totaling 7 billion yuan, industry news site tmtpost.com reported.

"If model, talent and capital are all in place, start-ups can move very fast," said Rupert Hoogewerf, chairman and chief researcher of the Hurun Research Institute.

Among all the unicorn companies surveyed by the Hurun report, Ant Financial, an affiliate of Alibaba Group Holding, topped the list with a valuation of 400 billion yuan.

The financial technology giant is preparing to raise $9 billion in a private funding round ahead of its IPO, which may value the company at about $150 billion, the Wall Street Journal reported on April 10, citing people familiar with the matter.
Rupert Hoogewerf is a speaker at the China Speakers Bureau. Do you need him at your meeting or conference? Do get in touch or fill in our speakers' request form.
Are you looking for more stories by Rupert Hoogewerf? Do check out this list.
Please follow and like us: