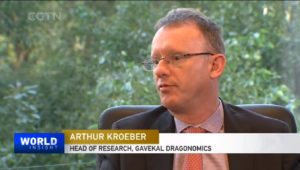 Media reported widely the 6.8% GDP growth over the first quarter of 2018 in China, but economist Arthur Kroeber wonders what such a number actually means. Also: the impact of the announced US tariffs on Chinese products would hardly make a dent in economic growth, he tells the South China Morning Post.
The South China Morning Post:
Some analysts say the lack of volatility in the range of the GDP figures has reduced the relevance of the data in gauging the health of the world's second-biggest economy.

"Do we have a high degree of accuracy in quarter-to-quarter China GDP as other advanced economies? The answer is no," said Arthur Kroeber, co-founder and research head of Gavekal-Dragonomics, a research firm. "Chinese government calculation about GDP is basically designed to reduce volatility".

Kroeber said China's economic growth rate was expected to slow over the next two or three years and a trade war with the US might knock off about 0.3 percentage points if it involved the US imposing tariffs on US$100 billion worth of Chinese imports.
More in the South China Morning Post.
Arthur Kroeber is a speaker at the China Speakers Bureau. Do you need him at your meeting or conference? Do get in touch or fill in our speakers' request form.
Are you looking for more financial experts at the China Speakers Bureau? Do check out this list.
Please follow and like us: