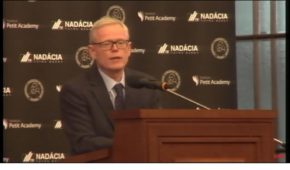 Pulitzer prize winner Ian Johnson, author of The Souls of China: The Return of Religion After Mao, addresses the change China went through over the past twenty years, beyond the poor cliches we often look at. How the country became more important military, as a consumer heaving, but also developing cultural values that were believed to be missing.
Organizers: Petit Academy, Tatra Banka Foundation, Comenius University in Bratislava, Slovakia.
Ian Johnson is a speaker at the China Speakers Bureau. Do you need him at your meeting or conference? Do get in touch or fill in this speakers' request form.
Are you looking for more speakers on political change at the China Speakers Bureau? Do check out this list. 


Please follow and like us: