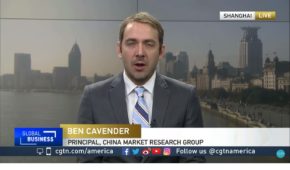 Alibaba's major competitor JD is trying to change its corporate structure, after its CEO and owner Liu Qiangdong has been accused – and acquitted – of sexual misconduct. Business analyst Ben Cavender sees an effort to reframe the JD story, he tells in Benzinga.
Benzinga:
JD's change comes at a time when investors are concerned with the company's corporate structure in which CEO Liu Qiangdong controls nearly 80 percent of all voting rights, WSJ said. The company's board cannot meet without his presence unless he recuses himself, and this became a more notable issue after the executive was briefly arrested in Minneapolis on suspicion of rape.

The Chinese company's move to change its structure could be seen as an attempt to "change the narrative" surrounding the company, China Market Research Group's Ben Cavender told WSJ. From a public relations point of view, the restructuring move following Minneapolis authorities declining to press any charges against Qiangdong is encouraging, he said.

Some uncertainty remains over what the revamped JD structure will look like, and it "doesn't change the fact that [Qiangdong] has the voting rights and power at the end of the day," Cavender said. Other analysts told WSJ they are skeptical the CEO will diminish his influence on JD behind the scenes.
Ben Cavender is a speaker at the China Speakers Bureau. Do you need him at your meeting or conference? Do get in touch or fill in our speakers' request form.
Are you looking for more branding experts at the China Speakers Bureau? Do check out this list.
Please follow and like us: