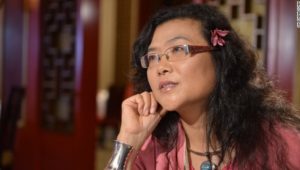 Author Zhang Lijia of Lotus, a novel on prostitution in today's China talks ahead of her lecture at Spittoon Book Club talk January 19 at Timesdirect.tv in Beijing.
Timesdirect:
It seems that in your book, prostitution is portrayed as a legitimate choice when rampant capitalism condemns a young woman to a life without any thrill or space for individual expression.
I certainly wouldn't use the word "legitimate." Rather, for some of the most vulnerable women, it is one of the few or only choices they have – to sell their own bodies. For girls serving the upscale market, it is sometimes a lifestyle choice, a way to obtain quick money. For clients, yes, some visit prostitutes seeking thrill, among other reasons.

At some point in the book Lotus, the protagonist, finds pleasure with one of her clients, one pleasure that she never felt before. The stigma of prostitution is one thing, but the stigma of women's sexuality is also another subject that you touch upon.
I'd like to portray women as three-dimensional human beings with sexual desires. I found it quite interesting that some women experienced sexual pleasure that they never experienced with their husbands. Some felt bad about it as they regarded their work as "dirty" and it felt wrong to get pleasure out of this disgraceful job. This is one of the reasons that Lotus turns to Buddha – to cleanse herself.

Lotus finds a very understanding and open-minded man in the character of the photographer Bing but their relationship is still complicated. What was the meaning behind Bing's character?
The photographer Bing is obsessed with photographing the girls. Apart from his noble reasons, there are also selfish reasons.

It is a complicated relationship because they come from such different backgrounds and have different expectations. By introducing the character Bin, a better educated urban man, I was able to discuss some broad social issues.

In the end, we learn that Lotus' happiness is not going to be dependent on her relationship with a man.
Yes, for me, it is a novel about a young woman finding herself.

We need more novels about sex, money, and guanxi.
Of course!
More at Timesdirect.tv
Zhang Lijia is a speaker at the China Speakers Bureau. Do you need her at your meeting or conference? Do get in touch or fill in our speakers' request form.
Are you looking for more experts on cultural change at the China Speakers Bureau? Do check out this list.
Please follow and like us: