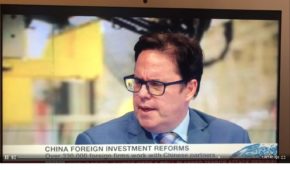 For years the business community feared China's central government would kill the so-called VIE's (variable-interest entity). The tool to circumvent the country's strict ownership regulations was never endorsed by the government but has also never been in serious trouble, tells China veteran and lawyer Mark Schaub to Bloomberg. The ban even did not show up in the draft foreign investment law, last week.
Bloomberg:
In the latest draft, Beijing dropped language that would have invalidated the so-called "variable-interest entity" structures employed by Chinese tech giants from Alibaba Group Holding Ltd. to Tencent Holdings Ltd. But it's also proposing to scrap special laws governing Sino-foreign tie-ups — a move that could force them to re-examine longstanding contracts, lawyers say.

Those twin strands emerged from China's Foreign Investment Law, intended to govern every aspect of the world's No. 2 economy for global investors. This particular edict has gained newfound significance as tensions flare between Beijing and Washington; the revisions to VIEs and JVs were little-noticed amid an array of other moves that span curbs on forced technology transfers to leveling the playing field for foreign firms.

In the case of VIEs, the missing language assuages concerns about a corporate structure that circumvented foreign-ownership restrictions. The model has never been formally endorsed by Beijing but has been used by tech titans such as Alibaba to list their shares overseas.

Pioneered by Sina Corp. and its investment bankers during its 2000 initial public offering, the VIE framework rests on shaky legal ground and foreign investors were thus nervous their bets would unwind overnight.

The original version of the legislation was dubbed by a number of "hysterical commentators as 'the VIE killer,'" said Mark Schaub, a partner at King & Wood Mallesons.

"However, as its successor has dropped any reference to VIEs, we believe it should be business as usual. China's regulatory position on VIEs may still evolve, but we do not believe there will be a U-turn, " Schaub said…

Foreign firms that control their ventures may take advantage of the new regime to eradicate "inflexibility," King & Wood Mallesons's Schaub said. He cited the need to secure directors' unanimous consent to amend company articles, adjust capital, or even just to dissolve the venture. "Likely, the Chinese partners may also seek to adopt the new law if they are in a controlling position."

Companies are still studying the potential effects and aren't yet sure how it would impact existing ventures, said Xu Heyi, chairman of Daimler AG'spartner Beijing Automotive Group Co. Changan Auto, which is allied with Ford Motor Co., said a half-decade should be more than enough time to avert disruption.
Mark Schaub is a speaker at the China Speakers Bureau. Do you need him at your meeting or conference? Do get in touch or fill in our speakers' request form.
Are you looking for more experts on managing your China risks? Do check out this list.
Please follow and like us: