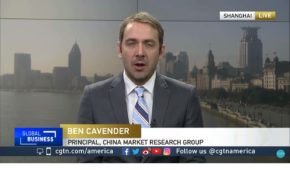 Competition between Starbucks and Luckin has been heating up, and Luckin seems to focus on a higher segment of the market. But business analyst Ben Cavender warns the company might fall into a sword it helped to create itself, he tells to Reuters.
Reuters:
Luckin CEO Qian Zhiya said the company was on track to break even at a store level at every store during the third quarter because rising scale would it give it more bargaining power to lower input costs. Store level costs exclude marketing expenses.

Ben Cavender, Shanghai-based principal at China Market Research Group, cautioned that might prove to be a tall order.

"It's difficult because they have trained consumers to only want to go to the stores when there are big discounts," he said, adding that each store does not attract enough customers to cover cost of operations.

"Eventually they will probably have to cut non-performing stores and find a way to convince people that they have improved coffee quality along with slightly higher prices."
Ben Cavender is a speaker at the China Speakers Bureau. Do you need him at your meeting or conference? Do get in touch or fill in our speakers' request form.
Are you looking for more consumer experts at the China Speakers Bureau? Do check out this list.
Please follow and like us: