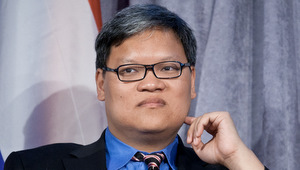 It is not Hong Kong protests or the trade war, China's leaders fear most, but hogs hit by African swine fever and the rising pork prices, says political analyst Victor Shih at Phys.org. An estimated 40 percent of its pigs have been killed already and massive reserves of frozen pork released on the stretched markets.
Phys.org:
And as it wears on, it is not just a problem for farmers, but also for the country's leaders—afraid of social repercussions and spiralling economic costs.

"Historically, high food inflation has triggered bouts of urban protests," says Victor Shih, the Hi Ho Miu Lam chair professor at University of California San Diego.

Beijing has implemented several measures to boost the pig population, including subsidies of up to five million yuan ($700,000) for breeders.

They also announced in September that new large-scale breeding bases were being built in southwest Sichuan province with the capacity to produce two million pigs a year.

But farmers contacted by AFP—reluctant to be identified—were afraid to raise new herds despite government subsidies, fearing that any trade deal between Beijing and Washington would undercut Chinese producers or that their hogs would be taken away again…

In a bid to keep a grip on escalating prices, the government auctioned 30,000 tonnes of pork from its strategic meat reserves ahead of the National Day holiday.

Officials insisted in September that there was sufficient supply and prices would now be stable.

But given the slowing economy and the trade war, "pork-driven inflation has further limited the government's options", says Shih.
Victor Shih is a speaker at the China Speakers Bureau. Do you need him at your meeting or conference? Do get in touch or fill in our speakers' request form.
Are you looking for more political analysts at the China Speakers Bureau? Do check out this list.
Please follow and like us: