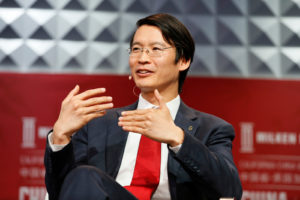 China's regulators have been focusing already on cryptocurrency, the mining operation. Fintech expert Winston Wenyan Ma warns we can get more regulations from China's government, especially on trading, he tells in The Street.
The Street:
Last month, the State Council's Financial Stability and Development Committee said China would crack down on bitcoin mining and trading activities as part of efforts to fend off financial risks.

China has banned financial institutions and payment companies from providing services related to cryptocurrency transactions, and warned investors against speculative crypto trading.

Winston Ma, adjunct professor at New York University School of Law and author of "The Digital War-How China's Tech Power Shapes the Future of AI, Blockchain and Cyberspace,' said, "China market controls 70% of global hashrate for bitcoins and crypto assets, so its rising regulation simply cannot be ignored by the crypto markets."

"It seems that China put more focus on the computation power of its national data center network," he said.

"[And] whereas China's mining regulation has already made the impact, the market is still waiting for the another shoe to drop relating to crypto trading, as China has also taken steps to restricting crypto-related capital flows in its financial system."
Winston Wenyan Ma is a speaker at the China Speakers Bureau. Do you need him at your (online) meeting or conference? Do get in touch or fill in our speakers' request form.
Are you looking for more experts on managing your China risk? Do check out this list.
Please follow and like us: