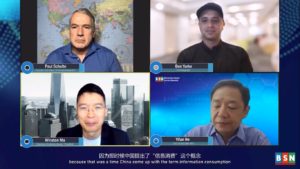 Fintech expert Winston Wenyan Ma joins a panel at the BSN base and explains how China's economy moved from import/export to a focus on innovation. China missed the world's first technological revolutions because of domestic turbulence and external influences but has become a leading force for the third technological data revolution.
Winston Wenyan Ma is a speaker at the China Speakers Bureau. Do you need him at your (online) meeting or conference? Do get in touch or fill in our speakers' request form.
Are you looking for more fintech experts at the China Speakers Bureau? Do check out this list.
Please follow and like us: