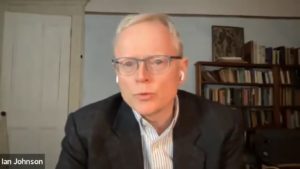 CFR-scholar Ian Johnson introduces and interviews bestseller author Liang Hong (in translation) about her book China in One Village on the vanishing villages and the costs of economic growth in the countryside, for the China Institute.
China in One Village, the bestselling book by Liang Hong, chronicles how the author's village has fallen into moral and physical decay over the past 40 years. In this virtual program presented by China Institute on December 8, 2021, Liang and Ian Johnson, author of The Souls of China, will discuss the fate of China's countryside and the human impact of China's extraordinary rise. Liang's book, newly published in English, raises the question: after decades of rapid development, what happens to the millions of Chinese still left behind by the country's astounding economic growth?
Ian Johnson is a speaker at the China Speakers Bureau. Do you need him at your (online) conference or meeting? Do get in touch or fill in our speakers' request form.
Are you looking for more experts on cultural change at the China Speakers Bureau? Do check out this list.
Please follow and like us: