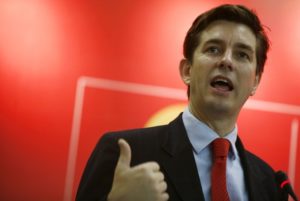 The US and China continue to lead the Hurun global unicorn list for 2021, says chief researcher of the report, Rupert Hoogewerf, although China is slightly behind the US, according to the Free Malaysia Today. "With its flagship TikTok closing in on 3 billion daily users, [ByteDance] has now grown to become a serious challenger to Facebook," the report said.
The Free Malaysia Today:
China fell further behind the US in the number of startups valued at more than US$1 billion, according to a report published today by China-based researchers. However, the two countries continue to dominate the worldwide list of "unicorns", as the highly valued unlisted companies are called.

The Global Unicorn Index 2021, compiled by Shanghai's Hurun Research Institute, showed that Chinese unicorns accounted for 301, or 28%, of 1,058 unicorns worldwide, as of the end of November.

In all, 42 countries had at least one unicorn. Collectively, the companies were worth US$3.7 trillion.

Some 74 new Chinese unicorns were added to the list, compared with 254 in the US, which had 487, or 46%, of the global total. Despite the slower growth in China, the two countries together accounted for nearly three-quarters of the world's unicorns.

India, which added 33 companies to the list, for a total of 54, ranked third.

"The US and China continue to dominate, with three-quarters of the world's known unicorns, despite representing only a quarter of the world's population," said Rupert Hoogewerf, chairman and chief researcher for the report.

But Hoogewerf added: "The rest of the world is playing catch-up, growing their share of the world's unicorns from 17% two years ago to 26% this year."

ByteDance, the parent of video app developer TikTok and Chinese sister app Douyin, was the most valuable unicorn on the list, with its valuation surging to US$350 billion, up from US$270 billion at the end of March last year.

"With its flagship TikTok closing in on 3 billion daily users, [ByteDance] has now grown to become a serious challenger to Facebook," the report said.

Valued at US$150 billion, online financial service provider Ant Group fell to second place after Chinese regulators blocked its listing last year and ordered a revamp of its payment and lending businesses. The moves were part of Beijing's antimonopoly investigation into parent company Alibaba Group Holding…

Hurun called 2021 the most successful year for startups, backed by the presence of an entrepreneurship ecosystem comprising affluent business people, world-class universities and, more importantly, venture capitalists.

"The role of investors is evolving to mentorship and scale-up opportunities, rather than just providers of cash," said Hoogewerf. "The world's leading unicorn investors are building ecosystems with their portfolio, [which is] hugely attractive to the world's fastest-growing startups."

Sequoia led the ranks of US investors, which also included Tiger Fund, Accel and Goldman Sachs. All of these more than doubled their investments in the 2021 unicorn list compared with last year.

SoftBank of Japan, Tencent of China and Temasek Holdings of Singapore were among active Asian investors.

The unicorn list also saw 201 companies removed from the ranking: Of those, 137 went public, 25 were acquired and 39 saw their valuations fell below US$1 billion. Some of the biggest decliners in value included Katerra, a US construction company, and Ucar, a Chinese ride-sharing company.

"For every successful unicorn you see, there are thousands of failed companies, as well as a new generation of future unicorns coming through," said Hoogewerf.
More at the Free Malaysia Today.
Rupert Hoogewerf is a speaker at the China Speakers Bureau. Do you need him at your (online) meeting or conference? Do get in touch or fill in our speakers' request form.
Are you looking for more stories by Rupert Hoogewerf? Do check out this list.
Please follow and like us: