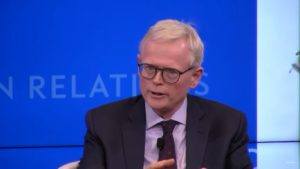 Political analyst Ian Johnson answers some basic questions on the upcoming 5-yearly meeting of the Chinese Communist Party at the website of the Council of Foreign Affairs. Most Polit bureau members will retire, Premier Li Keqiang will prepare for his replacement in March, and secretary-general Xi Jinping will be re-elected for his third term. What will it mean for Xi's position?
Ian Johnson:
Will a third term make Xi more assertive, particularly in terms of his foreign policy moves?

That is hard to say because he's already been quite assertive. Domestically, he's pursued a scorched-earth policy in areas with many minority populations, essentially forcing them to follow Han Chinese cultural practices. He's also quashed civil society, reined in religious groups, and put limits on nongovernmental organizations. Internationally, he has allowed diplomats to pursue "wolf warrior" policies, which often means speaking extremely bluntly to officials in host countries; presided over a military buildup in the South China Sea; and pushed a more aggressive policy toward Hong Kong and Taiwan.

These policies have created backlash. Almost all wealthy, democratic countries—including the United States, European Union countries, Japan, and South Korea—now view China as a rival and not just an economic competitor. This has led countries to pursue policies to reduce reliance on China. This is a huge change from a little over a decade ago, when China was seen as a potential partner in the existing international order.

Today, China is instead seen as a disruptor—not on the level of Russia, which has invaded neighbors under President Vladimir Putin, but still as a serious challenge to democratic countries. That seismic shift largely took place on Xi's watch and is almost certain to continue.

Will there be any big policy announcements during the twentieth party congress, such as economic reforms or a lifting of China's zero-COVID policy?

Probably not. Congresses are about choosing the party's leaders and setting its general direction. There will be a lengthy communiqué issued at the end of the meeting from which observers can glean ideas about what the government has planned. But it will mostly praise the government and list challenges.
More answers at the CFR-website
Ian Johnson is a speaker at the China Speakers Bureau. Do you need him at your (online) meeting or conference? Do get in touch or fill in our speakers' request form.
Are you looking for more political experts at the China Speakers Bureau? Do check out this list.
Please follow and like us: