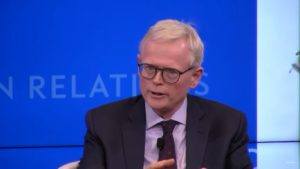 Now China suddenly started to retract its zero-Covid strategy, strategic analyst Ian Johnson looks back at how the country got itself into this unprecedented mess at the Prospect. The economic slowdown and high unemployment "are all underlying issues that actually make the government's challenge greater than first appears," says Ian Johnson.
The Prospect:
First, China's domestically produced vaccine is not very good. According to a study from Hong Kong, the Sinovac vaccine has an effectiveness of just 60 percent. Furthermore, its recipients "were three times more vulnerable to die compared to those inoculated with the German Pfizer-BioNTech vaccine." The Chinese company Fosun Pharma signed a joint venture with BioNTech to produce an mRNA vaccine but has been waiting for approval for over a year. Ian Johnson, the Stephen A. Schwarzman Senior Fellow for China Studies at the Council on Foreign Relations, believes China's refusal to approve the vaccine is because they "want to have their own domestic champion" to develop the vaccine. "The contract from the Chinese government to make 1.4 billion vaccines and another 1.4 billion boosters, that is a lot of money." he told the Prospect.

Second, while Western countries prioritized vaccinating the elderly, China has not. While about 90 percent of the whole population has gotten a primary sequence of shots, just 66 percent of those over 80 years old have—and just 40 percent have gotten a booster shot…

Economically, China's lockdowns have had brutal effects in a country that prides itself on its economic strength. Analysts estimate GDP growth will be just 3 percent in 2022—the worst figure since 1990, aside from the pit of the pandemic in 2020. The CSI 300 Index is down 22 percent since the beginning of the year, and in October, 207.7 million people, responsible for one-fifth of China's 2021 GDP, were under some form of lockdown policy. The economic hardships of COVID lockdowns are particularly affecting the younger generation, with youth unemployment at 18.7 percent in August. There is "a sense of let's get back to the times when China's economy was growing faster and tomorrow was a better day," says Johnson. The economic slowdown and high unemployment "are all underlying issues that actually make the government's challenge greater than first appears."

President Xi has backed himself into a corner. Either he can loosen lockdown restrictions as protesters have requested, and risk carnage, or quadruple down on zero-COVID, risking further discontent. It appears Xi will go with the first option, as sources claim China will ease quarantine restrictions and mass testing. "The problem is, when they do that, they are going to have to accept that a lot of people are going to die. No matter how good the vaccine rate is or how good the vaccine is, the fact is there are people who are going to die from COVID," says Johnson.

As for the protests, Johnson believes they are a significant moment but not a turning point in China. The protests "may be a harbinger of the future challenges the party faces in keeping a lid on things as it enters a period of slow economic growth." China has made efforts to prevent protests from continuing—sending police to the protest locations, placing barriers along the routes, and shutting down a small protest and arresting protesters in Hangzhou. The Biden administration has supported the right of the Chinese to protest, with Republican leaders criticizing his response as lackluster. But for President Xi, foreign criticisms are the least of his problems.
Ian Johnson is a speaker at the China Speakers Bureau. Do you need him at your meeting or conference? Do get in touch or fill in our speakers' request form.
Are you looking for more strategic experts at the China Speakers Bureau? Do check out this list.
Please follow and like us: