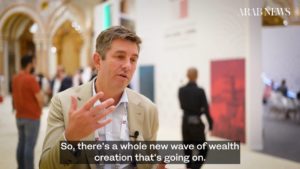 Hurun rich-list founder Rupert Hoogewerf visited the recent 10th Arab-China Conference in Riyadh and explains why China's economic interests are moving in the direction of the Arab world: new energy, building infrastructure, and rapid industrialization, he tells at Arab News.
Arab News:
He said Chinese investors appeared keen on exploring the region's markets, particularly Saudi Arabia. With the emergence of new sectors such as renewable energy, fast-growing real estate, and rapid industrialization in the region, there are huge opportunities for Chinese entrepreneurs, he added.

Hoogerwerf said China has a large number of "young companies that are innovative" and are interested in entering the Saudi market.

He said cheap energy prices make setting up bases in the Kingdom a lucrative proposition for manufacturing companies. "And of course, there is a lot of ambition to construct new infrastructure here," he added.

The researcher said Chinese companies have the required expertise and willingness to drive growth in the region, particularly Saudi Arabia.

He said he brought two Chinese companies with him to explore the Saudi market and launch operations in the Kingdom. One of the companies is a top manufacturer of solar panels, Hoogerwerf told Arab News. He said the company is in talks with Saudi partners to start manufacturing operations here as the Kingdom is also making efforts to transition from traditional to renewable and sustainable energy sources.

The other company, he said, is a real estate giant and visiting the Kingdom for the first time.
Rupert Hoogewerf is a speaker at the China Speakers Bureau. Do you need him at your meeting or conference? Do get in touch or fill in our speakers' request form.
Are you looking for more experts on China's outbound investments? Do check out this list.
Please follow and like us: