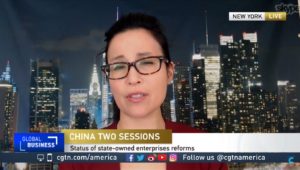 China might have announced drastic reform of its government, state-owned companies are still lagging behind in reforms, argues financial analyst Sara Hsu. Because their access to state funding is unlimited, they keep on creating new debts and have little incentive to improve efficiency, says Sara Hsu at CGTN.
Sara Hsu is a speaker at the China Speakers Bureau. Do you need her at your meeting or conference? Do get in touch or fill in our speakers' request form.
Are you looking for more financial analysts at the China Speakers Bureau? Do check out this list. 
Please follow and like us: