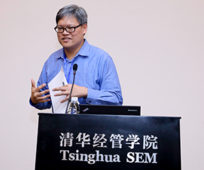 China's government seems eager to control debts, even when it means a mitigation of economic growth. But the financial stimulus will remain a trusted tool in the country's financial toolbox, in case growth drops too far, says financial analyst Victor Shih at the Deutsche Welle.
The Deutsche Welle:
Experts say the Chinese government needs to slow down the pace of infrastructure investment if it wants to resolve the debt problem. But they doubt that the government is willing to push ahead with such a measure.

"Because it [infrastructure investment] already is a large contributor to growth, slowing investment will substantially reduce growth rates," said Victor Shih, an associate professor of political economy at the University of California in San Diego. "This is not what the leadership wants."…

Analyst Shih believes that once China's economic growth drops to a certain level, Beijing would again resort to stimulus to boost expansion. "I still think that if growth falls below a certain level, the top leadership will order a stimulus, which involves acceleration in debt growth," said Shih. "That is the only viable tool in China's arsenal if the economy slows too much."
Victor Shih is a speaker at the China Speakers Bureau. Do you need him at your meeting or conference? Do get in touch or fill in our speakers' request form.
Are you looking for more financial analysts at the China Speakers Bureau? Do check out this list.
Please follow and like us: