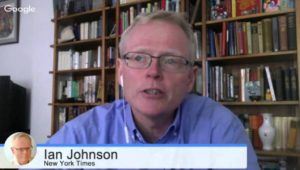 China's presidency – now no longer a two-term function – is highly ceremonial, but still matters, writes journalist Ian Johnson, author of The Souls of China: The Return of Religion After Mao at the NY Review of Books. Xi Jinping was already lifetime leader of the Communist Party and of the Central Military Committee.
Ian Johnson:
This isn't how China wants to portray itself to the world. Instead, it wants to be seen as a modern country able to offer a new model for governing—the "China formula" (zhongguo fang'an). China's political system might owe much to the Soviet Union, but it sees itself as much more than just a successor to that failed state.

This desire for normality extends to how one translates the name of the office that Xi can now hold for the rest of his life. The official translation is "president," but in Chinese it's zhuxi, or chairman. It sounds strange to speak of someone being "chairman of China"—it sounds so "Chairman Mao"—hence the official translation, "president."

These terms matter domestically, too. For twenty-five years, the three titles—head of party, military, and state—have been united under one person. By dropping the term limits on the presidency, Xi can keep a grip on all three without having a head of state (like a king or queen) who only appears at ceremonial occasions. Such a system wouldn't work in China. Here, more than in many other countries, ceremony is authority. Television footage of the stately Xi and his stylish wife meeting and greeting foreign dignitaries is a major reason for his popularity; losing that would harm him politically.

In hindsight, all this makes perfect sense, but I have to admit I was skeptical last autumn when some political analysts suggested that Xi might try to rule past a second term. One reason was that the Chinese political class has fought hard to institutionalize transfers of power. I wondered if Xi would want to risk alienating so many of his peers by taking such a step.

Another risk is that this puts Xi in the crosshairs if his policies fail. Should the economy fail to make the transition to a more modern, technology-driven model, for example, it will be difficult for Xi to blame his premier, Li Keqiang, because Xi has so completely eclipsed Li in economic policy. Mao and Deng had proxies who took the fall for failed policies. Now, it's Xi standing alone.
More in the NY Review of Books.
Ian Johnson is a speaker at the China Speakers Bureau. Do you need him at your meeting or conference? Do get in touch or fill in our speakers' request form.
Are you looking for more political analysts at the China Speakers Bureau? Do check out this list.
Related articles
Please follow and like us: