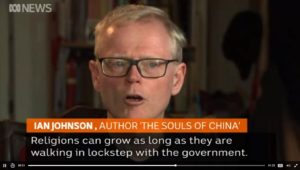 Bibles have been legally available in China, both in print and online. But a recent crackdown by the authorities on online bibles might signal a wider crackdown, writes journalist Ian Johnson, author of The Souls of China: The Return of Religion After Mao, for the New York Times.
Ian Johnson:
The Bible is printed in China but legally available only at church bookstores. The advent of online retailers created a loophole that made the Bible easily available. This was especially important in China given the growing dominance of online shopping.
The closing of that loophole follows new government religious regulations that have effectively tightened rules on Christianity and Islam, while promoting Buddhism, Taoism and folk religion as part of President Xi Jinping's efforts to promote traditional values. The moves also come as China is engaged in negotiations with the Vatican to end the split between the underground and government-run Catholic Church.
This would end a nearly 70-year split between the Chinese government and the global church, which Beijing traces to the Vatican's historically strong anti-Communist stance. Observers said the new measures could be a sign of a broader crackdown. At a news conference Tuesday outlining Beijing's approach, a government spokesperson said the Vatican would never be allowed control over the clergy in China. That came after a recent government reorganization in which a hard-line Communist Party department took over management of religious policy. "It sounds like the opposition force within the Chinese authorities who oppose the Vatican-China relations have their voice," said Yang Fenggang, head of the Center on Religion and Chinese Society at Purdue University. "It clearly shows that they worry or are concerned about Catholics as well as Protestants."
Ian Johnson is a speaker at the China Speakers Bureau. Do you need him at your meeting or conference? Do get in touch or fill in our speakers' request form.
Are you looking for more strategic experts at the China Speakers Bureau? Do check out this list. 
Please follow and like us: