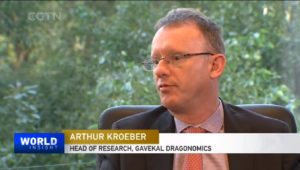 China has been leapfrogging into the digitization of the consumer industry but is now moving into the established manufacturing too. Economist Arthur Kroeber, author of China's Economy: What Everyone Needs to Know® looks at the progress, and potential barriers for robotizing China's factories.
Arthur Kroeber is a speaker at the China Speakers Bureau. Do you need him at your meeting or conference? Do get in touch or fill in our speakers' request form.
 Are you looking for more strategic experts at the China Speakers Bureau? Do check out this list.


Please follow and like us: