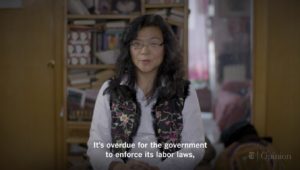 China's economy went uphill dramatically over the past decades, but women profited less than men, writes author Zhang Lijia of Lotus: A Novel, on prostitution in China. It is time the government starts to enforce its own laws and regulations on gender discrimination, she tells in the South China Morning Post. 
Zhang Lijia:
Gender discrimination is deeply ingrained in Chinese society, which, for centuries, was dominated by Confucianism which places women as inferior to men. Today, some of traditional attitudes and practices that had been repressed by Mao have resurfaced.

Some companies set much higher recruiting standards for women, while others refuse to hire women of childbearing age, a practice that has worsened after the end of the one-child policy. Employers view women without children as employees who will potentially take maternity leave twice.

 In theory, China has enough laws and regulations to protect the rights of female employees. But the lack of a specific enforcement mechanism often leaves victims in a vulnerable position. Besides, given the intense competition for jobs, employers have the luxury of being choosy. The authorities rarely pursue those who violate the rules and employers can usually get away with a few extra discriminatory requirements.

But not always. In 2012, a young woman applied for an executive assistant position with a tutorial centre but was rejected on the grounds that the job was reserved for men only. She filed China's first gender discrimination lawsuit and won a small settlement.

 A year later, another graduate woman won a similar case. When I interviewed her, I was encouraged by her fighting spirit. Other successful lawsuits followed, but the compensation usually amounted to around US$300.

These cases were part of the feminist activism that has emerged since 2012, when three women paraded the streets in bloodstained wedding gowns to protest against domestic violence. Others followed suit, queuing up in a public toilet to highlight the shortage of female toilets, and shaving their heads in protest against different university admission standards for women.

Some activists set up a Weibo account to monitor and report violations. Some of their complaints were addressed.

Sadly, the authorities' crackdown on activism has hampered these efforts. The growth of gender discrimination in employment has been challenged but it may spread wider in the near future.
More in the South China Morning Post.
Zhang Lijia is a speaker at the China Speakers Bureau. Do you need her at your meeting or conference? Do get in touch or fill in our speakers' request form.
Zhang Lijia is moving from Beijing to London early May. Are you organizing meetings in Europe after May? Do get in touch.
More stories by Zhang Lijia, you can find here.
Please follow and like us: