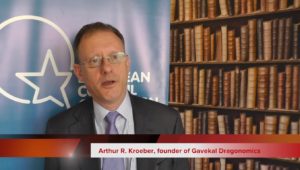 The US is moving from a trade war on commodities towards tech firms like ZTE and Huawei, trying to get a foothold with for example 5G into the US, says economist Arthur Kroeber, author of China's Economy: What Everyone Needs to Know® in the Nikkei Asian Review. "I think there probably is a desire to try and do what can be done to retard the progress of the Chinese firms in that."
The Nikkei Asian Review
"A lot of what we're going to see over the next couple of months will target much more directly [on] nontrade areas that have to do with technology transfer and investment," said Arthur Kroeber, founding partner and head of research at Gavekal Research, on an April 17 conference call. He also pointed to the upcoming competition for the next-generation mobile-telecom system.

"I think the timing of this is significant, because it is also at a time where the U.S. is increasingly concerned that ZTE and the other Chinese telecom company, Huawei, are stealing a march in the development of 5G technology, the next generation of technology for mobile phones," he added. "And so I think there probably is a desire to try and do what can be done to retard the progress of the Chinese firms in that."
More in the Nikkei Asian Review.
Arthur Kroeber is a speaker at the China Speakers Bureau. Do you need him at your meeting or conference? Do get in touch or fill in our speakers' request form.
Are you looking for more experts on the trade war between China and the US? Do check out this list.

Please follow and like us: