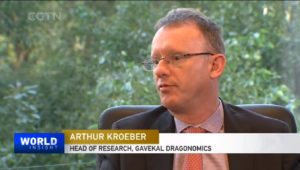 Despite the fast ups and downs in the relations between the US and China, the fundamental animosity between the world's largest economies is just not going away, says economist Arthur Kroeber, author of China's Economy: What Everyone Needs to Know® to the South China Morning Post. Despite Donald Trump's easing of the fight with ZTE, he does not expect a huge change in the tensions.
The South China Morning Post:
Some observers like Arthur Kroeber, research head at Gavekal Dragonomics, feel that relations between the countries are unlikely to improve.

"It is possible that all this back-and-forth [visits and talks] will allow a reduction or delay in the tariffs that the two sides have threatened … but it will also be cosmetic."

He said the rivalry between the US and China is not principally about trade, and is only marginally about Donald Trump. It is really about China's emergence over the last five years.

"These developments have caused the American security and foreign policy establishment to conclude that the US is now in a long-run strategic competition with China for technological and military superiority, and for dominance of the global economic system," he said.
More in the South China Morning Post.
Arthur Kroeber is a speaker at the China Speakers Bureau. Do you need him at your meeting or conference? Do get in touch or fill in our speakers' request form.
Are you looking for more experts to help you in dealing with the ongoing trade tensions between China and the US? Do check out this list.
Please follow and like us: